Before traveling to a place, especially on with as rich a cultural and political history at South Africa, I like to learn as much as I can so that I can appreciate it and enjoy it all the more when we are there. I've read a few books and watched a few movies to help me prepare for our big trip.
Kaffir Boy
I read
this book
and found it to be a wonderful auto-biography of a boy, tracing his roots from a tribal village through the treacherous times of apartheid in South Africa. I learned quite a bit of background information about the culture and people, while getting tons of social and political history about the country.
Age of Iron
This book
was highly acclaimed, but I just couldn't get into it. It has a lyrical and poetic sense to the tale of an older white woman on the verge of death who writes semi-coherent letters to her daughter and shares her experiences in the ever-changing world of white & black in South Africa.
Cry, the Beloved Country
Probably the
best fiction book
I read in a long time! It shares the hearth-wrenching journey of an elderly pastor who goes to find his son and others who have left the African countryside to find work in the big city. Although tragic, his fate is inter-twined with that of a neighboring white man's son who has a fateful interaction with the pastor's son. H watched the movie with me and he also greatly enjoyed it.
Long Road to Freedom: Autobiography of Nelson Mandela
I also read
the auto-biography of Nelson Mandela
, which is probably the longest book I've ever read in my entire life. Although a bit much on details at times, it was a fascinating story of how this young tribal boy became one of the most powerful and lasting political figures on South Africa. It goes into great detail about the political struggles, the violence between the races, the political resistance and Mandela's decades in prison. We are going to visit Robben Island when we are in Cape Town and take the tour of where Mandela was kept for so long.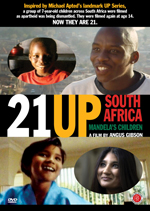 21 UP South Africa
This was a very
unique documentary
in a series that chronicles the lives of groups of people every 7 years. We start out following quite a few children at age 7, and then check in with them again at age 14 and 21 to see how their world has changed, how they have grown up, how their opinions and circumstances have evolved. Several of the children did not make it to 21, due to accidents or illness. It was great to see black, white, mixed, and Indian profiled in the South Africa portion.
GOOD NEWS OF THE DAY: Starting tomorrow, I'll be posting a special blog series while we are on
our South Africa vacation
. I take a trip down memory lane and re-visit each year of my 20's. I never knew how much stuff I'd already forgotten that I'd done. It's been interesting to re-live some of the triumphs and trauma of this amazing decade, and although it's been a TON of work to organize it, I will be happy to have a mini-life journal all in one place.
Hope you enjoy!