Back in May, H's office held a fundraiser for one of their clients who is based in Nashville & who had many employees lose everything in the flooding. They decided to make it a crawfish picnic with a raffle to raise money.




It was great that his boss was cool with most of the company spending Friday preparing for the big shindig. They had a giant tent delivered, dozens of table & chairs, many BBQ pits & boil pots, a DJ, tons of yard games.




It was sort of like a company picnic for many of the employees & I got to see some of his coworkers that I hadn't seen in a while.




Many of the boss men from corporate headquarters even showed up on a Friday afternoon to support the party.




The owner of the company even showed up and made a generous contribution to the fundraiser.




Mmmm, mmmm, mmmm!




His customer has an office located here & some of the employees came out to support their coworkers in Nashville. H's mom also works with the company & made it out for the fun.




In addition to the raffle, the other fundraiser was $5 Pie Throwing Contest, where hubby & the President of the company volunteered to take a pudding pie to the face to raise money.




Everybody in the office was excited for a chance to toss objects at these guys!




H got off easy at first, but ended up with a few direct hits.




This is where the trouble started...one of the employees wanted to skip the throwing part, so she did a drive-by pie in the face.




Boss man pays her back with a nice little hug to cover her in pudding too.




She retaliates by dumping a whole can of pudding on him! Unfortunately, he cut his hand pretty bad on the lid & most of the fun was over.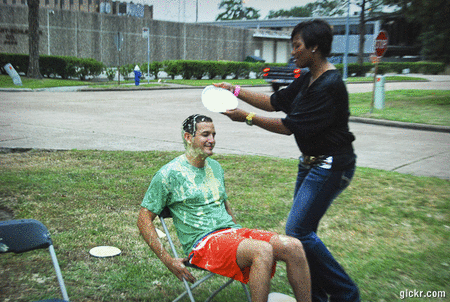 One of H's customer's got up-close dumping privileges and she was hysterical.




Soon after, a massive gigantic storm hit & we were all soaked. There were several inches of standing water in the yard, people were running around cleaning up & packing up. It was a giant, fun, wet mess.

GOOD NEWS OF THE DAY: Just found out that H won a mini-vacation from work. It's going to be in Houston, but we get to take a few days off & relax in August.